Glacier National Park is a national park located in Montana, on the Canada–United States border with the Canadian provinces of Alberta and British Columbia. The park encompasses over 1 million acres and includes parts of two mountain ranges (sub-ranges of the Rocky Mountains), over 130 named lakes, more than 1,000 different species of plants, and hundreds of species of animals. This vast pristine ecosystem is the centerpiece of what has been referred to as the "Crown of the Continent Ecosystem," a region of protected land encompassing 16,000 square miles
"Perfect for the whole family: Big whitewater, eye-popping scenery and a mouth-watering lunch make the Clark Fork River in Montana unforgettable. Raft six class III rapids as ospreys and eagles soar overhead and beaver, otters and fish play beneath your raft. This trip is perfect for kids 6 and older. It's a great mix of easy, scenic floating and exhilarating whitewater with plenty of time for relaxing or playing games. Squirt guns are included on every boat!"
-pangaeariverrafting.com
The Lolo National Forest is located in western Montana, surrounds Missoula, MT and is comprised of 2,111,223 acres.

"For those who want to experience the Lolo National Forest first hand there are some 1,800-miles of trails open to foot and horseback travel. Many of these trails crisscross through Rattlesnake, Scapegoat, Selway-Bitterroot, and Welcome Creek Wilderness Areas. The Forest also contains eight National Recreation Trails and miles and miles of shorter day hike trails.

The Lolo National Forest is an area of shimmering lakes, rugged beauty, diverse recreation opportunities, and a long history. It is a place full of wonderful experiences, long lasting memories, and memorable sights. This Forest offers something for all who visit, time and time again."
-forestcamping.com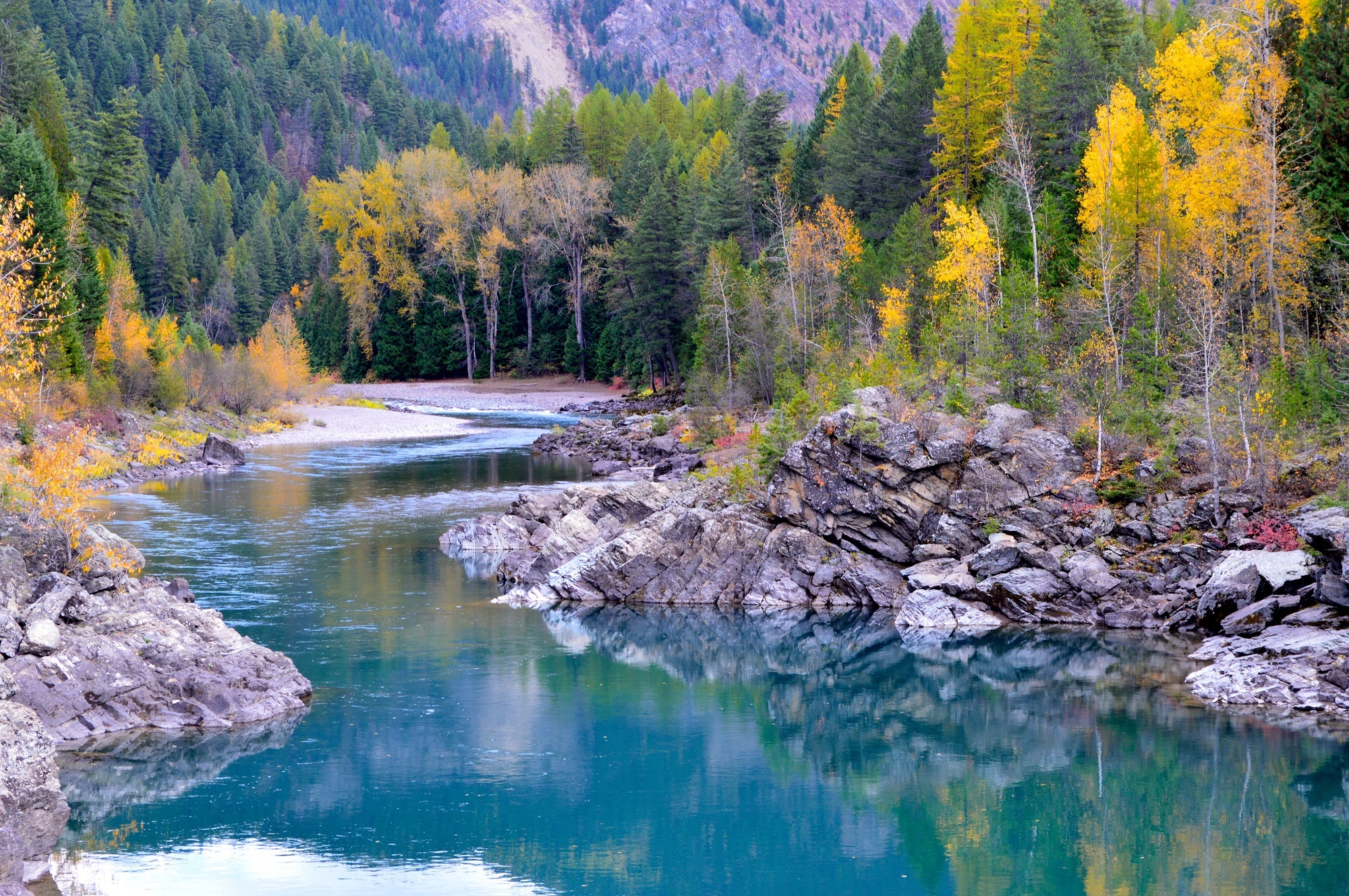 The Flathead River originates in the Canadian Rockies, north of Glacier National Park. The river flows southwest into Flathead Lake, the largest freshwater lake in the Western United States.

"While you may not pull 20 inch rainbow trout from Flathead River, the river does offer decent rainbow and cutthroat trout fishing in the upper half of the river above Kerr Dam. Below Kerr Dam, the northern pike fishing is excellent, with some largemouth bass, brown trout and some rainbows thrown in to the mix as well."
- bigskyfishing.com
Joe Cantrell and his wife Suellen have been operating a full time fishing operation on the Clark Fork River since 1995. The have a modern lodge on the Clark Fork with special room rates for fisherman staying with them.
"After the dam removal up to the present we have seen the fishing improve where a 20 fish day is common with the size fish you catch its a fun great day. Bird and animal life on the river makes for a relaxing and enjoyable trip..."
-Joe Cantrell
Trestle Creek Golf Course
"Set along the Clark Fork River, Trestle Creek finds that perfect balance that is fun for every level of golfer. Beginners will find every tee shot to be straight-forward, with only one forced carry on the signature seventh hole. Advanced players will find that the tree-lined fairways reward the straight driver. Smooth, beautifully –maintained greens are a joy to putt. Trestle Creek reflects the pride of a small, active community that embraces the outdoor lifestyle."
-trestlecreekgolf.com